Employment with AFL Cleaning Services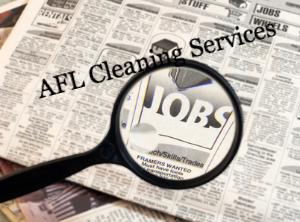 AFL Cleaning Services hires talented, high performers who share a desire to grow and stand out as individuals providing high value and outstanding customer service.
For employment opportunity, please complete an online application by clicking either the Pittsburgh, Pa or West Palm Beach, Fl Online-Employment Application. To print an application for personal submission, please click here >> Employment Application
How We Hire:
Our Practice:
AFL Cleaning Services employment process is designed to: assess your skills, talents and experience in relation to the jobs we have available and the process consists of the following:
1. Submit an online application to allow us to obtain basic information.

2. If your application contains the minimum qualifications, you will be contacted by a AFL Cleaning Services representative to discuss a position by phone in a 15-20 minute phone interview. At that time, you will also be provided an opportunity to obtain answers to questions you may have.

3. Upon completion of a satisfactory phone interview, you will be requested to complete a personal interview with a management team member.

4. Upon completion of a successful personal interview, a background check will be submitted. If an approved clearance is obtained, a job offer could be extended.